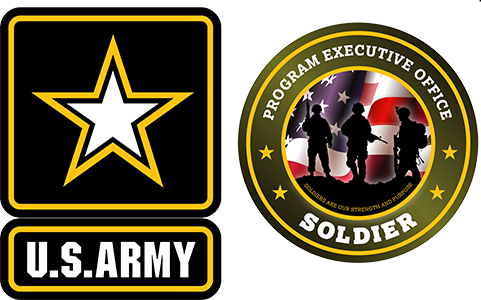 PROGRAM EXECUTIVE OFFICE SOLDIER
Enhanced Night Vision Goggle – Binocular (ENVG-B)
Mission
Provides the capability to engage and execute close combat, combat support, and combat service support operations in very low-light (starlight) conditions.
Description
The ENVG-B POR is a helmet-mounted individual night vision device that has an integrated long-wave infrared (LWIR) thermal sensor and white phosphor dual Image Intensification (I2) tubes. The fused I2 and thermal display can be used during low- and high-light levels, extreme weather, and with obscurants.
The ENVG-B is interoperable with the Family of Weapon Sights-Individual (FWS-I) for a Rapid Target Acquisition (RTA) that provides the Soldier the ability to accurately engage targets without shouldering the weapon and execute offset shooting. The ENVG-B operates on the Intra-Soldier Wireless (ISW) network with Nett Warrior (NW), allowing the Soldier to receive and display navigational, targeting, and situational graphics.
Specifications
Weight: 2.5 lbs.
Dimensions (L×H×W): 4.2" x 4.5"x 3.9" (goggle)
Resolution (lp/mm): 75 lp/mm
Tube form factor: 18mm
Field of vision: 40 degrees System zoom: 3×